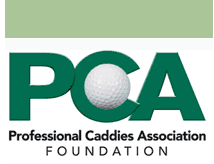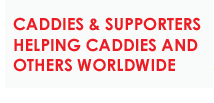 contact:

World Caddie Headquarters-PCA
mailto:PCAF@PCAFhq.org">PCAF@PCAFhq.org 
WANT TO HELP?  JOIN THE TEAM AND MISSION TODAY GO TO > www.PCAhq.com or email us at PCAF@PCAFhq.org

Enter your info to get FREE CADDIE TIPS from PCA Loopers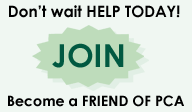 Back to News
2008 Gene Sarazen Spirit Award for Notable People who Started as Caddies: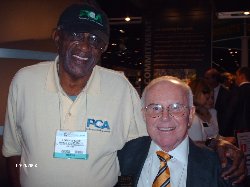 JIM AND JACKIE WRITERS SCHLORSHIP FUND HAS STARTED
TO HELP-- E-mail Dennis Cone TODAY at Dennis@PCAhq.com


The Gene Sarazen Spirit Award for Notable People who Started as Caddies:

Max Elbin, President of The PGA of America from 1966-1968, and PGA head professional at Burning Tree Club, a prestigious private club outside Washington, D.C., from 1946-1995, played with and taught six United States presidents, from Dwight D. Eisenhower to George Herbert Walker Bush. His three-year term as The PGA's 15th President came during tumultuous times that reshaped the organization. With tour Professionals feeling their needs were not being met, a movement among several high-profile tour players led to the creation of a separate division, which eventually became the PGA TOUR.

Elbin helped guide The PGA of America through these challenging times. The PGA and PGA TOUR ultimately signed an agreement called the "Statement of Principles" in 1968, shortly after Elbins third term as PGA president. It remains the basis for the operating agreement between the two organizations.

He began his involvement with golf as a caddie during the Great Depression, and later was hired by Lew Worsham as an assistant at Burning Tree, taking over on a handshake at 26, after Worsham left to pursue tournament golf.

Elbin, who passed away on Dec. 12, 2008, started a comprehensive caddie program at Burning Tree, which remains intact today.


Dr. John Reynolds, Vice President, Club Car, Global Business Development. Dr. Reynolds caddied as a youngster and continued for several years. He played golf as "junior" in college and continued throughout his life, with essential lessons about courtesy, attention to detail and the Rules of Golf. Caddying opened my mind to the pleasures of the Game of Golf, life challenges, the value of hard work and a sense of accomplishment, in this instance, a sport, that has influenced my entire life, especially, through the opportunity to meet so many interesting people and travel nearly the entire world. Stated Mr. Reynolds. Mr. Reynolds mentorship to the PCA, PCA Founder Dennis Cone, and work in the medical field and leadership in the golf world is greatly appreciated and he is deeply respected worldwide.

James V. Burgess Jr. Mentor, Lawyer, Mayor, Former Caddie and Golf Lover. When the urge to hit golf balls strikes James Burgess Jr., he can walk out his back door and swing away. The mayor of Social Circle, Ga., has three golf holes on his 60-acre property. The holes are built around a small lake. They are all par-3s and are used for target practice. The 76-year-old mayor and retired attorney plays golf for fun and relaxation. Earlier this month, he played 18 holes for the love of the game. My brother and I caddied all the way through high school and up until I left home for college. Caddying has had a great impact on my life. It taught me the discipline of hard work, along with the extreme patience required to participate in this extremely difficult sport. Stated Mr. Burgess Caddying introduced Burgess to hard work, customer service and the quirks of golf. He developed a passion for the game that he still has today. He also serves as a mediator for the 10th Judicial District ADR Program and the Georgia Office of Dispute Resolution.