Meet the 2008 Class of inductees into the PCA Worldwide Caddie Hall of Fame:

Caddie Division:

Elijah Brown, Longtime caddie/friend at Seminole Golf Club in Florida
Elijah Brown is a wonderful man who is devoted to Seminole Golf Club in Juno Beach, Fla., and has caddied for more than 32 years. Browns character and commitment to the club caddying experience is a model for the caddie profession and exemplifies the best possible interaction between members, guests, staff and other caddies. Stated Seminoles Todd Baron The PCA welcomes the spirit of Eli Brown to the PCA Caddie Hall of Fame
.
The Caddie Manager Division, the Master of Caddies:

Tom Gorman, Caddie Manager at Beverly Country Club.
Gorman caddied at Beverly Country Club from 1952-1954. One of his first memories was taking caddie lessons from Ed Barr. He once teed off from the 16th hole first right-handed and then left-handed with the same club. Both balls went 250 yards down the middle. Little did he realize that years later his son would caddy for Barr would try to replace him. Gorman taught English and Latin at Saint Laurence High School for 35 years. In 1987, he became the caddie master at Beverly Country Club and have been there ever since. Through his work, he has been associated with teenagers for 47 years.


The Bucky Walters Caddie/Coach Award for the Challenged Golfer with Special Needs:

Charlie DeLucca, The Godfather of South Florida Golf
DeLucca, 67, is the executive director of the Dade Amateur Golf Association, where he also runs a First Tee program out of the International Links of Miami-Melreese. Nobody in South Florida has introduced more juniors to golf. PGA Tour pro Dudley Hart and LPGA pro Cristie Kerr are among the legion of young players who have come through his programs.
2008 Gene Sarazen Spirit Award for Notable People who Started as Caddies: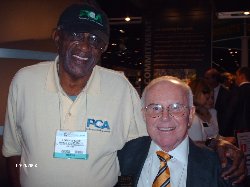 The Gene Sarazen Spirit Award for Notable People who Started as Caddies:

Max Elbin, President of The PGA of America from 1966-1968, and PGA head professional at Burning Tree Club, a prestigious private club outside Washington, D.C., from 1946-1995, played with and taught six United States presidents, from Dwight D. Eisenhower to George Herbert Walker Bush. His three-year term as The PGA's 15th President came during tumultuous times that reshaped the organization. With tour Professionals feeling their needs were not being met, a movement among several high-profile tour players led to the creation of a separate division, which eventually became the PGA TOUR.

Elbin helped guide The PGA of America through these challenging times. The PGA and PGA TOUR ultimately signed an agreement called the "Statement of Principles" in 1968, shortly after Elbins third term as PGA president. It remains the basis for the operating agreement between the two organizations.

He began his involvement with golf as a caddie during the Great Depression, and later was hired by Lew Worsham as an assistant at Burning Tree, taking over on a handshake at 26, after Worsham left to pursue tournament golf.

Elbin, who passed away on Dec. 12, 2008, started a comprehensive caddie program at Burning Tree, which remains intact today.


Dr. John Reynolds, Vice President, Club Car, Global Business Development. Dr. Reynolds caddied as a youngster and continued for several years. He played golf as "junior" in college and continued throughout his life, with essential lessons about courtesy, attention to detail and the Rules of Golf. Caddying opened my mind to the pleasures of the Game of Golf, life challenges, the value of hard work and a sense of accomplishment, in this instance, a sport, that has influenced my entire life, especially, through the opportunity to meet so many interesting people and travel nearly the entire world. Stated Mr. Reynolds. Mr. Reynolds mentorship to the PCA, PCA Founder Dennis Cone, and work in the medical field and leadership in the golf world is greatly appreciated and he is deeply respected worldwide.

James V. Burgess Jr. Mentor, Lawyer, Mayor, Former Caddie and Golf Lover. When the urge to hit golf balls strikes James Burgess Jr., he can walk out his back door and swing away. The mayor of Social Circle, Ga., has three golf holes on his 60-acre property. The holes are built around a small lake. They are all par-3s and are used for target practice. The 76-year-old mayor and retired attorney plays golf for fun and relaxation. Earlier this month, he played 18 holes for the love of the game. My brother and I caddied all the way through high school and up until I left home for college. Caddying has had a great impact on my life. It taught me the discipline of hard work, along with the extreme patience required to participate in this extremely difficult sport. Stated Mr. Burgess Caddying introduced Burgess to hard work, customer service and the quirks of golf. He developed a passion for the game that he still has today. He also serves as a mediator for the 10th Judicial District ADR Program and the Georgia Office of Dispute Resolution.


Lynda Barco Angles Heart Award ( a Person or Company ) who has been an Angel to PCA:

Jack Lucas- A Friend of PCA
With athletics always a big part of his life growing up, Lucas was introduced to the sport of golf grandmother at age 10. He was hooked from the moment that he took his first swing of the club.
Lucas played competitively up to a certain point and caddied in several pro-am tournaments that were in his hometown area of Cleveland. Lessons he has learned on the golf course are ones that he continues to apply today in his every day personal and professional life. Hats off to looping and the life lessons it teaches!

Remember:

1. Make every moment/shot count once it is gone, it is gone there are no do-overs.

2. Plan ahead dont just think about now. Think about how the shot you take now will set you up for success with your next shot.

3. Bad shots and bad luck will happen though. Be ready to pick yourself up and get focused on what it will now take to succeed.

4. Be honest and full of integrity. Play it as it lies.

5. Be open to input and counsel from those with experience. Dont always think you have the solution to the challenges in front of you.

In keeping the Spirit Glowing and Flowing...PCA will award the
Bruce Edwards Spirit Award and angles heart during the Hall of Fame Ceremony to:

Mr. Roger Martinez, PGA TOUR, and Club caddie. Roger has reached out to help PCA and the mission to help save the tradition of the game. Roger has helped Gene Sarazen, Ben Hogan, Gary Player and Jack Nicklaus both on and off the course.

The PCA is seeking nominations from the golf community to honor notable people who have started their careers as caddies, as well as professional caddies and caddie masters worldwide, please email PCAF@PCAFhq.org .

The PCA Hall of Fame ceremony is sponsored impart by The world Caddie Foundation-PCA www.PCAFhq.org , Greco Planning Group www.GrecoPlanning.com , Tech Sox www.TechSox.com , Malcolm DeMille http://www.mdemille.com/ , Jamie McWilliams- www.golfjamie.com, www.FinsandSkins.com , David Shumate www.Maxtherapy.com


About PCA
PCA is an association open to all who support the mission. Companies, folks like you and caddies, working or retired, dedicated to elevating respect for the professional caddie. The organization and its Foundation partner work to provide the youth of the world the opportunity to learn both life and social skills through the game of golf and the profession of caddying, while enhancing their knowledge and interpersonal skills both on and off the course. In addition, PCA and its 10,500 caddies trained since 1997, and members worldwide strive to bring back caddies to the golf courses of the world, while preserving the tradition of this greatest of all games. Visit us at www.PCAhq.com and www.PCAFhq.org for more complete details.


PCA Mission:
Help caddies and supporters help caddies and others worldwide. To provide its members, caddies, their families and others with additional income opportunities, high quality benefits, services and certification thorough educational and communication programs worldwide. By introducing our youth to the 500 year old art and profession of caddying, we instill in them its core values of responsibility, discipline, integrity, awareness, respect and honesty: life skills and attributes all should aspire to possess.

We will continue to elevate the respect for the profession of the caddie. We will pay homage to those who have filled a special role in the history of the game by inducting them into the PCA Caddie Hall of Fame. To bring back caddies and preserve the tradition of the game of golf for the kids.