The 2007 Caddie Hall of Fame

Inductees into the Caddie Division are:

William " Bill " Thomas: (203) 324-4212 Bill is the caddies Caddie. Bills quote about his first Caddie Experience when he was 11 years old. " heavy bag, lot of walking, hard " Bills 69 years of service to the Wee Burn Country Club in Darien, Ct, the members and the profession is truly a diamond in the ruff. " His dedication to Wee Burn is unfaltering " stated Sam Wiley, PGA Head Professional. Bill worked for may years as starter on caddies days and always shows up early and leaves late! Bill is truly a role model for all caddies and his induction into the TCF-PCA Hall of Fame is well deserved. Hats off to you Mr. William " Bill " Thomas.. Caddie on………


Carl Eisenbrei: 330-280-1643. Carl started caddying at the age of 11 and at 70 years young means he has been looping for over 59 years. Carl is a true gentleman and bible scholar. " His enthusiasm for golf as well life is contagious and having him around help makes a golf program better " stated PGA/LPGA professional Faith Egli. Another fact about Carl's work is the gentle advice and teaching he performs with younger caddies. They listen to him with respect and it seems like they consider him "Uncle " Carl is loved by the members and other caddies at The Congress Lake Club in Hartville, Ohio . Welcome to the Hall UNCLE Carl…..TCF-PCA

Caddie/Coach for the Challenged Golfer with special needs.

Jackie and Percy Hall: 513-518-7131 Jackie and Percy is the proud parents of Kevin Hall who led Ohio State to the Big Ten Championship and became the first Buckeye to earn medalist honors since 1998. He went on to get his PGA TOUR card and another first in the golf world. http://www.pgatour.com/story/9466509/ andhttp://www.pgatour.com/story/9217869/ Jackie and Percy have supported Kevin from the beginning, taking the attitude he should " ... get out there ... get the experience ... do what hearing people do ... so he knows what is coming." They taught him fingerspelling, reading, and counting.His parents emphasized " ... succeed in school ..." At age three Kevin was enrolled in kindergarten at St. Rita School for the Deaf in Cincinnati, and he remained at St. Rita's until high school graduation. It was at St. Rita's he learned lipreading and sign language. Kevin was athletically talented, specializing in baseball and bowling. When he was nine, a family friend took him to a golf driving range. It was "love at first sight" for Kevin. Immediately, without any instruction, he was able to swing his club as though he had been playing for years. He was "hooked"! St.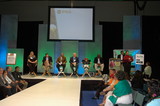 Rita didn't have a golf team so Kevin's parents successfully petitioned the school board to allow him to play for neighboring Winton Woods High School. There he was a four-year letterman in golf. By the end of his high school career, he was "All-Ohio" and Cincinnati's top prep golfer. Kevin graduated from St. Rita as valedictorian of his class. He liked Ohio State University's "golf tradition"; and he was able to qualify for a golf scholarship there, becoming the first African-American and the first hearing-impaired student to achieve that distinction. The love of a son is demonstrated for the world to see by these good folks. Thank you for sharing your heart.. TCF-PCA
The Caddie Manager/Master Division:
Frank Selva: 203-397-9806 -- Frank's roots into the golf world began as a caddie and later CaddieMaster for over 13 years of service. Frank has been the Head Golf Professional at Race Brook Country Club since 1976. Frank has received numerous awards for teaching and community accomplishments during his career. Most recently Frank received the Junior Golf Leader award by the PGA of America for his tremendous contributions to junior golf. The awards also include Golf Professional of The Year, Horton Smith Award, Junior Golf Leader, and Bill Strausburgh Award (twice). In 2004 Frank received the Knight of Honor Award from Notre Dame High School. Frank is very active with Special Olympics, junior golf, inner-city golf, and working with the physically handicapped in the state. In 2003, Frank represented the U.S. at the Special Olympic World Games in Dublin Ireland, as the technical delegate and advisor. These are just a few of Frank's cherished accomplishments.
Frank teaches the Ernest Jones method of golf. Frank really enjoys hanging out on the lesson tee and helping members with their swings. During Frank's career he played in many PGA events and qualified for the GHO twice. Frank served as president of The PGA Connecticut Section in 1994-1995. During his time as president, Frank started the Connecticut Section PGA Golf Foundation. Frank still serves as president of the Foundation and, over the last seven years, he has raised over seventy five thousand dollars, walking and playing over a hundred holes of golf each year. Over the past several years many head professionals have worked under Frank's leadership and example. Paul Miller, John Korolyshun, Jim Hanlon, and Ralph Salito are the most recent. Thank you Frank for what you have given the kids and the game. TCF-PCA

Lynda Barco Spirit Award (A person or Company) who has been an angel to PCA
Rick Schad: 401-738-4340 Rick is know in the golf world as a creative Graphic Artist. Ricks heart is true to the game and the helping kids
Thank you Rick.... Ricks portfolio -- http://picasaweb.google.com/rickschad/RickSPortfolio?authkey=91S1W5WWUSA

Bruce Edwards Spirit Award:
Kyle LaGrasso: Kyle LaGrasso will receive the Bruce Edwards Spirit Award this year at the PGA Show
YA GOT TA SEE THIS Great heart and golf story here: The next Tiger Woods??
This takes a few min. to watch, but is so worth it!!! Click here: http://www.sonnyradio.com/kylelograsso.html
Kyle will receive the Bruce Edwards Spirit Award at 4pm the 18th at the fashion show stage
Please join us at the 12 noon press conference and photo opportunity also..
Interviews and stores welcomed
You can help sponsor here: Anyone can donate here: Join Michael Bolton and Kevin Bacon to help the TCF-PCA Foundation bring Kyle LaGrasso to Florida to recieve the Brouce Edwards Spirit award at the PGA Show. You can
help us make a better world .. click on the link below to donate to our mission & cause:
TODAY > http://www.networkforgood.org/pca/Badge.aspx?BadgeId=105539

Co Sponsored by David and Howard Shumate www.MAXtherapy.com FELL THE MAX ( official product of the PCA )
and http://www.lacajachina.com/ The best cooking/roasting in the world... Call PCA for a show special